Larry Campbell & Teresa Williams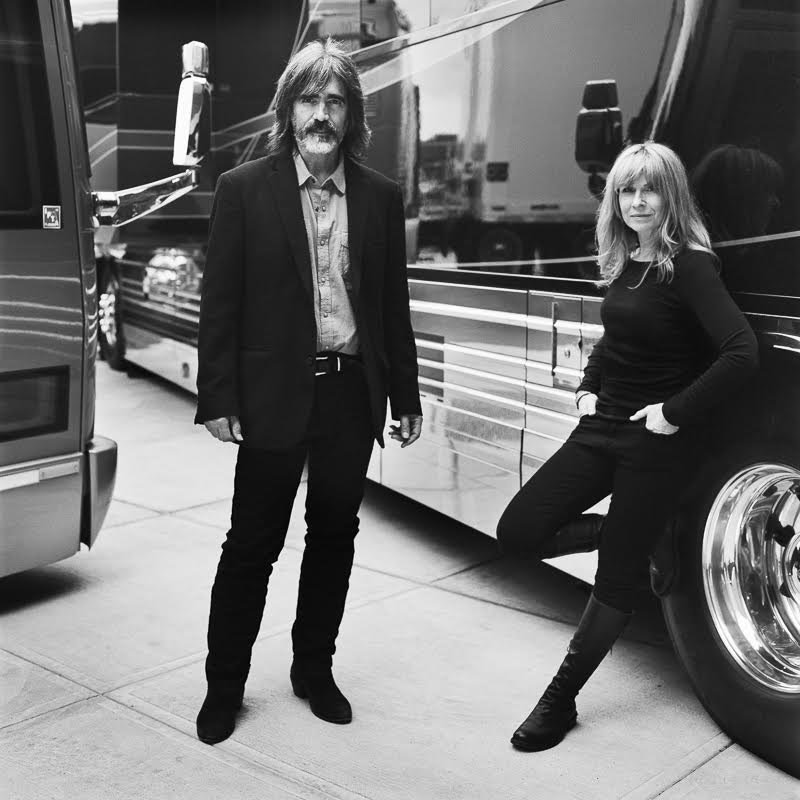 Larry Campbell & Teresa Williams
website: www.larryandteresa.com
Biography
Multi-instrumentalist-vocalist Larry Campbell and singer-guitarist Teresa Williams have rocked many a venue, as both center stage performers and invaluable assets to world class acts. A shortlist of artists who've benefited from their talents, live and in studios, reads like a Who's Who of Music Icons: Bob Dylan (Larry spent eight years on the Never Ending Tour), Paul Simon, Little Feat, Hot Tuna, Phil Lesh, Emmylou Harris, Sheryl Crow, Mavis Staples, and, for one miraculous seven-year stretch, Levon Helm. Now, with an eponymous debut album, the couple brings it all back home. Larry Campbell and Teresa Williams may have been simmering awhile, but the timing is perfect; the eleven tracks, produced by Campbell, distill everything into a potent, infectious blend of Americana style and timeless soul, offered with a relaxed generosity that can only come from rich experience.
Larry and Teresa's story begins at New York's famed Bottom Line club in the mid 80s; she was singing country, he was playing pedal steel. It was love at first chord. "She was the real deal," native New Yorker Larry says. "None of that Urban Cowboy nonsense. And she was clock-stopping gorgeous. I was smitten." "I'd thought country music players in New York was an oxymoron," says Tennessee-born Teresa. "But he saved my life on that stage. I thanked him for bringing the heavy steel down to play just a few songs, and when we looked into each other's eyes I saw everything he is, the depth of his soul." They married soon after, setting off on their own individual highways, but always circling back to each other. Among other adventures, Teresa originated the role of country music pioneer Sara Carter in the musical Keep On the Sunny Side, and Larry achieved renown as the go-to roots music guy for sessions, tours, and pit bands, the dude who'd mastered a dizzying array of stringed instruments and styles.
The seeds for a duet project were unwittingly planted in their courting days, when Larry and Teresa sang and played with the locals under her great-great grandmother's Tennessee cedar tree, the same one under which they married. (These gatherings continue to this day.) Later, when the duo was song-swapping all night with the band in the back of Bob Dylan's tour bus, Dylan's longtime manager Jeff Kramer told Larry he was crazy not to make hay with what they had as a duo. But their schedules kept the idea on the back burner until 2005, when Levon Helm called. He'd beaten cancer, was invigorated as never before, and was putting together a band for the soon-to-be legendary Midnight Rambles at his barn-studio in Woodstock, NY. He wanted some Campbell-Williams mojo to help make the most of his surprise fourth act.
This humble beginning – playing in a barn on a dirt road – inaugurated the greatest musical experience of Larry and Teresa's Larry became the unflappable leader of the shape-shifting Midnight Ramble Band, earning three Grammys for producing Levon's final three CDs; Teresa, as an indispensable band member, frequently brought the house down. Larry Campbell and Teresa Williams is an extension of that time, featuring eight originals and three covers honed on the carpet of Levon's barn, under the gaze of grateful fans. Songs like the Muscle Shoals-inflected CD opener "Surrender to Love," heart-wrenching ballad "Another One More Time," and boot-stomper "Bad Luck Charm," feature the distinctive texture of two entwining voices who've been through a lot together – the good, the bad, and the joyous."It was the most pure musical experience I've ever had," Larry says of their time with Levon. "It gave me the template for how to make music for the rest of my life: no egos, no agenda, no petty stuff. I looked forward to every gig I ever did with Levon, I loved doing it, and when it was over I couldn't wait for the next one. I got inspired to write more songs for Teresa and me to sing."For Teresa, singing in the church-like space at the Midnight Rambles was full circle for her childhood discovery of the magic between an audience and an artist. "I don't remember a time not singing in front of people. I sang in church, at school, everywhere. I didn't know anything about making records. I just knew connection to an audience was everything. While standing onstage Saturday nights at Levon's – musically true north – in that intimate space, I realized: this was my dream, and I'm in it."When performing at Jorma Kaukonen's Fur Peace Ranch in Ohio, Teresa took on Reverend Gary Davis' "Keep Your Lamp Trimmed and Burning," infusing the apocalyptic gospel tune with show-stopping, pew-jumping fervor. Her roots as a seventh-generation Mississippi Delta cotton-farm girl rose to the surface.The song became part of the Midnight Ramble repertoire, and captured on Larry Campbell and Teresa Williams, it's a powerful force indeed.After Levon's 2012 passing, they grieved, celebrated his life, and got to work finishing Larry Campbell and Teresa Williams. They had the tunes, and, with drummer (and ace recording engineer) Justin Guip and Ramble Band member Byron Isaacs on bass, they had an ass-kicking, road-worthy band. Additionally, the lovefest of guests on Larry Campbell and Teresa Williams sweetened the pot considerably: Amy Helm's voice melding with Larry and Teresa's on the gorgeous Grateful Dead hymn "Attics Of My Life," Little Feat keyboardist Bill Payne's rollicking touch on several tracks, and Levon himself appearing on "You're Running Wild," a tune made famous by the Louvin Brothers, now given an Orbison touch (originally recorded during Levon's Dirt Farmer sessions). Finally, it all dovetailed into place.
With Larry Campbell and Teresa Williams, this duo not only brings a lot to the table, they bring the table itself – plus the house, the still, the church, the marriage bed, the sawdust-covered floor, and abiding, unconditional love, all carried in two voices harmonizing across hills, hollers, porches, and fire escapes. Those close harmonies ride atop music made in a mountain refuge, far from the madding crowd, connected to a spirit that lives on in song.